Apps like Dave are cash advance apps that offer short-term loans usually for a relatively small sum to meet emergencies without having to incur all the interest and charges associated with traditional loan offers.
Dave is one of the most popular financial apps. It made a name for itself by eliminating overdraft fees for its customers. Famously receiving an investment from Shark Tank's Mark Cuban in its early stages, Dave is well-known as one of the best fee-free cash advance apps.
A cash advance is a short-term loan issued by a lending app, platform or banking institution, usually for a relatively small sum. Dave isn't alone in offering this service. So, consumers should weigh their options and choose the one that is best for them.
So if you are trying to get the top best instant cash advance apps like Dave that will give you quick and immediate cash loan to meet urgent financial obligations before payday without incurring overdraft or lending charges, then you are in the right place.
Just imagine waking up thinking it's going to be just another day, but then your car breaks down. Your electricity bill arrives and it's much higher than it usually is. You fall ill unexpectedly.
This is where Dave comes in. Dave helps you get through financial emergencies without throwing you under a pile of debt by providing interest-free cash advances.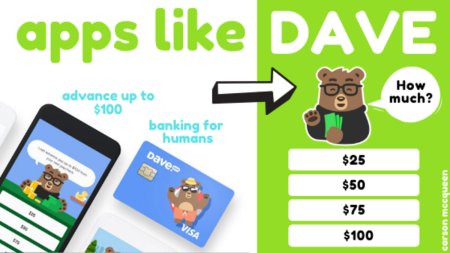 List of Top 15 Best Apps Like Dave For Payday Cash Advances 2022 
Here is a list of our top 15 picks for best apps like Dave for payday cash advances in 2022 and you can just choose the best choice that meets your lending option.
Albert
SoFi Money
Chime
Earnin
Brigit
Empower
MoneyLion
Even
PayActiv
Branch
DailyPay
Varo
Axos Bank
FloatMe
Affirm
Albert is our 1st pick for apps like Dave for small payday cash advances in 2022 that can provide you with an emergency advance of up to $250 against your next paycheck. When you make a request, they'll send the money directly into your bank account. You repay the advance upon deposit of your next paycheck.
Albert gives cash advances of up to $250 with no interest and no late fees. The negative balance will be deducted from the next paycheck once the user is paid. Users are not required to sign up for Albert's paid subscription tier to access cash advances.
One limiting factor to consider, though, is the $4.99 fee for instant access to cash. Otherwise, the cash transaction will take 2 to 3 days to reach a customer's account.
Additional benefits include two-day-early paychecks and no impact on credit scores for cash advances.
To Download the app and apply for Albert Loan, Click Here.
The next app on our list of best cash advance apps like Dave is SoFi Money. SoFi Money gives you early access to your salary before the direct deposit is scheduled to arrive in your account.
Like Dave, this app does not charge overdraft fees or minimum balance fees. It even offers free coverage for accidental overdrafts of up to $50 so you don't get hit with a penalty.
However, unlike Dave, SoFi Money has zero monthly charges. If you have a SoFi Money card, you get to enjoy access to over 55,000 ATMs across the country without having to pay transaction fees.
Another benefit of using SoFi Money is that you get to earn 0.25% annual percentage yield (APY)—about six times the national average— on your savings. All you have to do to qualify for this rate is direct deposit at least $500 into your SoFi Money account monthly.
To Apply for SoFi Loan, Click Here.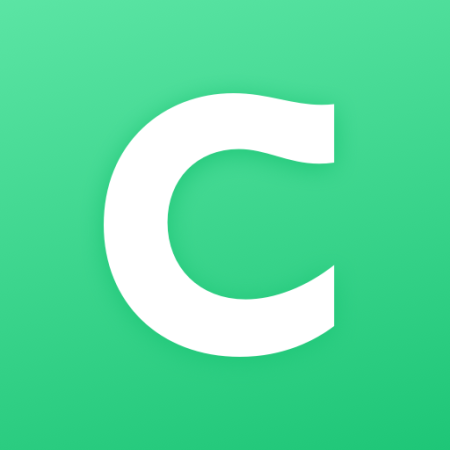 Chime is our 3rd pick on our list of top 15 best instant cash advance apps like Dave in 2022. The lending app works exactly like Dave. The maximum amount you can request is $200 but you have to start building your account to qualify.
However if you're in urgent need of a little cash, Chime can lend you up to $100 before your paycheck arrives. With Chime's Spot Me feature, you can overdraw up to $200 on your account depending on your repayment history.
Chime has been in the fintech business for almost a decade now serving as an online bank account where you can make direct deposits, transfer money, send checks, pay bills online and get a cash advance on your salary when you're low on funds.
While Dave charges you a monthly subscription fee of $1 to maintain your account and Express fees between $1.99 and $5.99 for quick processing of your cash advance, Chime is completely free to use. It charges zero maintenance fees, transaction fees, minimum balance fees, or hidden fees.
To Apply for Chime loan, click here.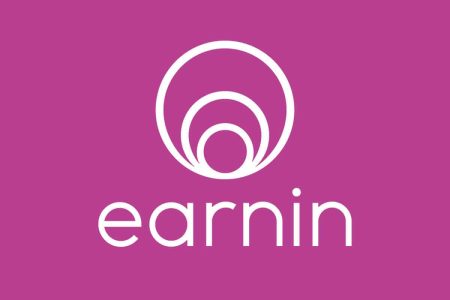 Within 1-2 business days or even less depending on which option you opt for, you can get a cash advance with Earnin which is one of the most popular instant cash advance apps like Dave of 2022.
With Earnin, you can make any day payday by taking an advance on your pending earnings. The platform lets you borrow between $100 to $500 a day from your outstanding paycheck without having to deal with the excessive fees and interests of the usual payday loans.
All you have to do is log into the Earnin app, tell the company where you work and bank, and it'll use location services or timesheets to calculate how much time you spent on the job that day.
Next, you'll need to multiply the hours you worked by your hourly rate, and Earnin will advance the money you earned that day within one to two business days or instantly if you opt for the Lightning Speed feature.
To Apply for Earnin loan, click here.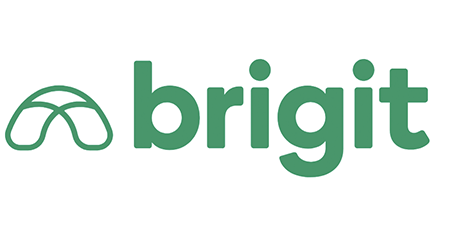 Brigit is one of the best cash advance apps like Dave that you can use. It works by letting you borrow money and pay it back when your next paycheck is deposited.
With Brigit Plus, you get a cash advance within 20 minutes whilst the standard accounts get it within 1 to 2 business days. To be able to request up to $250, you need to uograde to the $9.99 per month plus plan. It's definitely one of the top instant cash advance apps like Dave you can get.
While Dave only gives you a maximum cash advance of $200 if you have a Dave spending account and $100 without one, Brigit offers up to $250. On top of that, Brigit allows you to extend the due date on your first loan once without incurring a penalty or late fee.
The more you use the service, you'll be able to earn more extension credits that will let you postpone loan repayment up to three times in a row. Like Dave, Brigit charges a membership fee, but the price points and benefits differ greatly.
To Apply for Brigit loan, click here.

The process with Empower is simple. You can withdraw from $25 to $250 and you pay automatically when you receive your next paycheck. It's our no 6 in our list of cash advance apps like Dave.
Want a quick cash advance but don't want to deal with interest rates or late fees? Consider using Empower to receive up to $250 whenever you need a cash injection to take care of your bills and expenses.
When you apply for a loan on the platform the money will be disbursed to your Empower checking account free of charge or to an external bank account for a flat fee of $3. You can even get access to your paycheck two days earlier thanks to Empower's Early Paycheck Deposit feature. Empower is definitely one of the top apps like Dave.
To Apply for Empower loan, click here.

This is another top pick on our list of instant cash advance app like Dave. With it you can receive up to $250 and get started after you create a MoneyLion account. It's highly recommended payday loan for credit access.
You can use MoneyLion to get cash advances whenever you have unplanned expenses that need sorting out. The service grants you instant loans of up to $250 per pay cycle depending on how much income you regularly earn and deposit into your checking account.
The process for getting a cash advance on MoneyLion is much faster than Dave by a few days. You can even receive the disbursement instantly or within a few hours if you have a RoarMoney account.
Compared to Dave which charges a $1 monthly fee to enable it to furnish you with loans, MoneyLion doesn't require any fees or interest on cash advances. Instead, the company asks that you leave an optional tip whenever you get a cash advance so that MoneyLion can remain interest-free and available to as many users as possible.
MoneyLion doesn't perform any kind of credit checks before, during, or after you request a cash advance, so you don't have to worry about ruining your credit or getting disqualified for not having stellar credit.
To Apply for MoneyLion Loan, click here.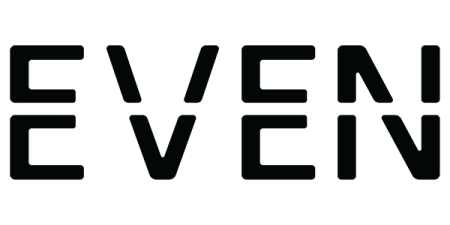 Even is our 8th pick on the list of cash advance apps like Dave for emergency payday loans. Whether you need to fill your gas tank, pay a bill, treat yourself to a good time, or buy groceries, Even is there to help you deal with life's surprises by giving you access to cash within minutes. The service puts its own unique spin on cash loans by advancing money from your unpaid wages.
To be eligible to borrow money from Even, you need to work for a qualifying employer. Even will then furnish you with an advance of up to 50% from your paycheck depending on your salary history.
Just like Dave, Even does not collect interest rates or taxes when you take a cash advance from the service. However, like its counterpart, Even requires a monthly subscription fee to enable you to cash out from the platform.
To Apply for Even Loan, click here.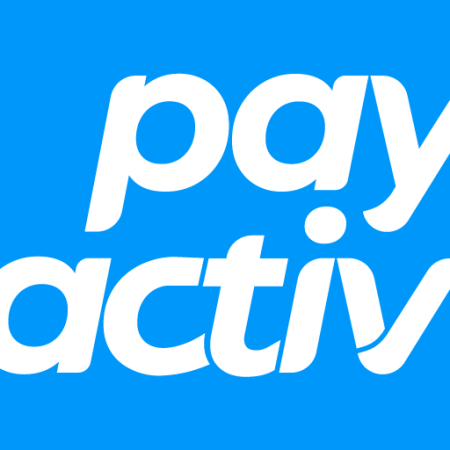 One of the most attractive features of PayActiv is the fact that you can use the cash advance service during federal holidays and weekends in the US. It is our number 7 on our list of best 15 cash advance apps like Dave for small payday loans.
PayActiv is designed to help employers provide their employees with early access to their paychecks. However, you are still eligible to use the service even though your employers don't have an account with PayActiv.
In this instance, you'll have to apply for a PayActiv card to be able to receive a pay advance from your wages up to two days ahead of the due date.
Once you register on PayActiv, you'll be able to view the number of hours you've worked and your current earnings from the app. Like Dave, PayActive doesn't charge interests on cash advances, the amount withdrawn is simply deducted from your next paycheck.
To Apply for PayActiv Loan, click here.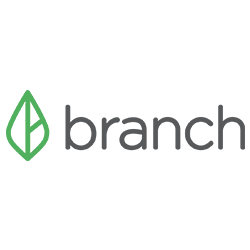 This is a lead pick on our list of top cash advance apps like Dave that allows employees of participating companies to access part of their wages. This is deducted from their earned wages. 
Branch is one of the best cash advance apps like Dave available in the market today. The service is designed to help employees get faster access to their wages, keep track of payments and balances, get spending reports regularly, and receive alerts about upcoming bills.
This fintech platform is particularly useful for employers who have lots of underbanked or unbanked employees. It provides them with a free digital account and debit card for transactions.
Branch lets you withdraw up to $500 in advance per pay cycle of $150 per day based on how many hours of work you do and wages you earn. However, the catch is that your employer also has to set up an account on Branch.
To Apply for Branch Loan, click here.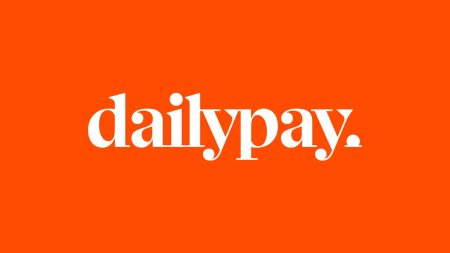 If you're looking for cash advance apps like Dave to help you solve urgent financial needs when you're low on cash without attracting hefty overdraft fees on your account, DailyPay is one of the best options to consider and our 9th pick.
With DailyPay, you can get an advance on your earnings before your next payday and save over $1,205 in overdraft fees, loan interest, and late fees.
Whenever you clock in for a shift, your earnings for the day will be added to your DailyPay account. You can transfer the earned amount to your bank account any time you want and DailyPay will deduct the advances from your salary when payday comes around.
The app charges a modest transfer fee of $1.99—which is on par with what Dave charges—on each withdrawal to deposit your cash advance by the next business day. Alternatively, you can pay $2.99 for an instant transfer.
To Apply for DailyPay Loan, click here.
Varo gets the 10th position in our list of top 15 best cash advance apps like Dave for payday loans. With Varo, you can access up to $100 and you pay a fee depending on your advance. All of the advances must be paid within 30 days.
Once you set up a direct deposit on your Varo account, you'll be entitled to withdraw any amount you want from your earned wages ahead of time.
The pay advances you receive from Varo are interest-free, just like the advances that Dave offers. You won't even have to pay transfer fees, foreign transaction fees, or keep a minimum balance.
To Apply for Varo Loan, click here.
Axos Bank is one of the top financial service apps like Dave, offering users quicker access to their paychecks. When you open a high-yield savings and checking account with Axos Bank, you automatically qualify for the Direct Deposit Express feature.
This gives you access to an advance on the money you've already earned days before the actual check lands in your account. To activate this feature, you simply have to set up a direct deposit for your account and Axos will take it from there.
Compared to its counterpart, Dave, Axos Bank does not charge you a monthly service fee. It doesn't demand overdraft fees or require you to have a minimum balance to keep your account operative either. The bank is our 11th pick for cash advance apps like Dave for fast and emergency instant cash.
To Apply for Axos Bank Loan, click here.
Floatme is our 14th pick for finance apps that functions like Dave, enabling you to request and receive money instantly whenever you need it.
Floatme is specifically targeted at millennials and it allows them to request and receive cash advances of up to $50 while avoiding overdraft charges that would ordinarily accrue.
The platform requires a monthly membership subscription of $1.99 to qualify you to receive advances, making it slightly less expensive than Dave's $1 membership fee. Floatme gives you a 30-day trial period so you can check out the service before committing fully to it.
Another thing Floatme and Dave have in common is their no-interest policy. This means that any cash advance you receive from Floate will not incur interest.
To Apply for Floatme loan, Click Here.
Affirm is our 15th pick on our list of instant cash advance apps like Dave to get quick and emergency cash.
Instead of offering you a cash advance outright the way Dave does however, Affirm takes a different approach by giving you a virtual credit card loaded with the amount you requested that you can use to make purchases and settle bills.
It also helps you schedule repayment based on your spending habits and the schedule that works for your job. All you need to do is pick the option that works best for you and start enjoying your cash advance.
You can use the Affirm app to buy anything from anywhere. You simply have to enter the purchase amount into the app and it'll take it from there. Afterward, you can then set up a monthly payment plan to make the payback process as painless as possible.
Affirm outpaces Dave with regards to simplicity and speed. It processes your transfers within minutes so you don't have to wait around for days for your transactions to be completed.
To Apply for Affirm Loan, Click Here.
Frequently Asked Questions About Instant Cash Advance Apps Like Dave For The Best Quick Loan Apps
What cash advance apps like Dave lend you money instantly in the US?
These apps are known as instant cash advance apps and you can pick any of the apps we mentioned below.
Here are our top 11 picks for apps like Dave in 2022 and you can just choose the best instant cash advance option that appeal to you more.
Chime
Earnin
Brigit
Empower
MoneyLion
Even
PayActiv
Branch
DailyPay
Varo
Axos Bank
What apps like Dave gives you 100 dollars?
Dave: Cash advance app with 0 Interest Rate in USA for 2022
An instant cash app like Dave can give you up to $100.
How do I borrow $200 from the Cash App?
Download any of the popular instant cash advance apps from either the Playstore or the AppStore. Log in or sign up and go to "Banking" and then "Borrow". If you are eligible for $200, you will be able to cash it out.
What's the best cash advance app?
Our number one cash advance app is Dave. Others are
Chime
Earnin
Brigit
Empower
MoneyLion
Even
PayActiv
Branch
DailyPay
Varo
Axos Bank
How can I borrow money online instantly?
You can borrow money online instantly by using an instant cash advance app like Dave or any of the above apps. You can also get an advance with no credit check required.
Can I borrow money from Venmo?
Yes you can, by using Venmo's cash advance feature.
Do You Need Quick Or Emergency Cash From Instant Loan Apps In Nigeria That Give Up To N500,000 and Above?
In need of an instant loan or an emergency cash loan? You can apply through any of the top loan apps in Nigeria and get funded under 3 hours, a few more hours or within 24 days.
If you are in United States of America (USA), you can also apply for an emergency cash advance loan even if you have a poor or bad credit rating. If you need the top and best Apps For No Credit Check Loans, direct to your debit card, CLICK HERE.
These Top 10 Best Instant Loans No Credit Checks Guaranteed Online Approval are also highly recommended.
If you are in Canada, these 10 cash advance loan apps could meet your emergency and quick cash loan request.
For instant, payday, emergency or advance cash loan if you are in Australia, CLICK HERE.
Inquiries:
Email: moneycabal2000@gmail.com